The macadamia seedlings
Do you want to become a macadamia outgrower ?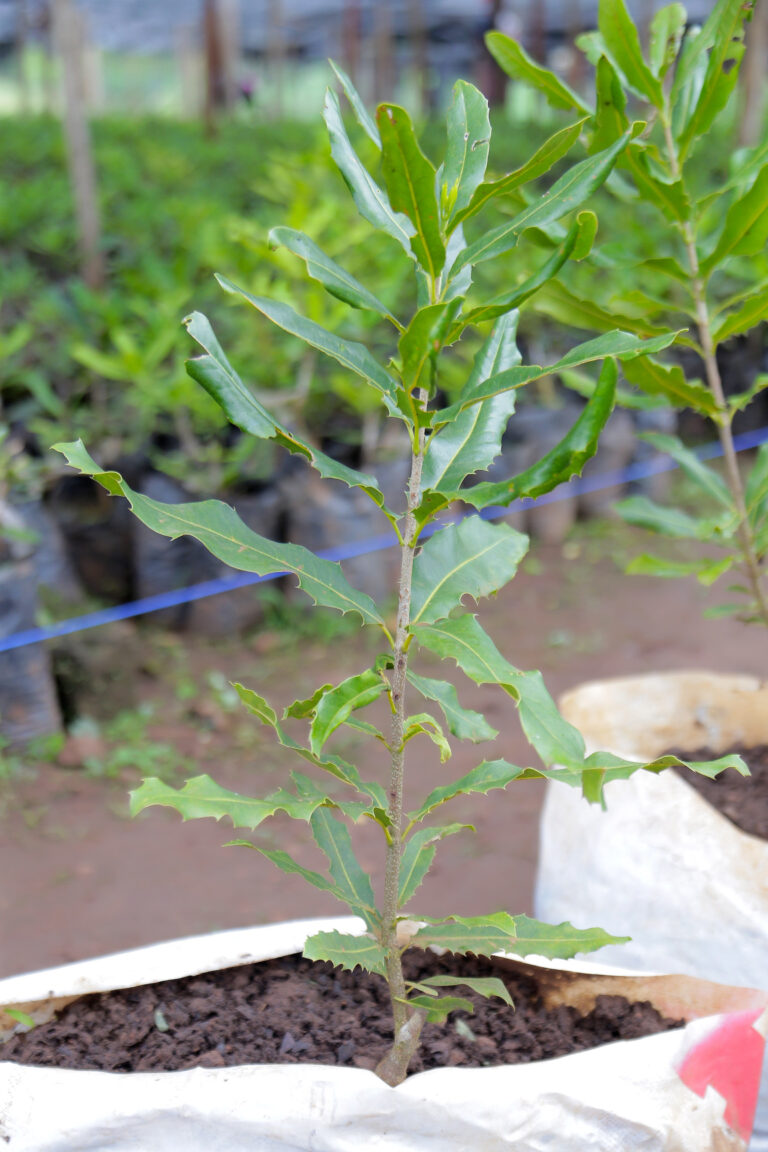 The macadamia seedlings we propagate from our nursery are the East African selections namely Muranga (MRG20), Kirinyaga (KRG15), Embu (EMBU1) and Kiambu (KMB3).
As added value to our communities AMAFH FARMS limited is involved in the development of rural agriculture through promoting the growing of macadamia nuts for better and sustainable household incomes generation.
We have over 700 small-to-medium size macadamia
We are establishing macadamia nuts Collection Centres which cater for out growers with maturing macadamia nuts. We do that under the umbrella of MACADAMIA FAMILY Agricultural Extension Services. The Collection Centre staff give outgrowers technical advice on orchard maintenance and post-harvest handling of macadamia nuts in addition to buying the nuts harvested by the outgrowers soon after de-husking. While we have already started the outgrowers operation in Kyenjojo District to serve all the surrounding areas, similar arrangements are underway for the other macadamia farming areas around the country.
outgrowers in various regions of the country with macadamias at different stages of growth and maturity.
Our management team regularly visits out growers to see their farms seeing and getting first-hand information on the challenges the out growers are facing in growing the crop and giving necessary advice.
As part of our social responsibility program we support, and are involved in the development of emerging farmers by providing technical training and assistance with affordable macadamia good quality seedlings to encourage the growing of the crop in other rural areas and ensuring good agricultural practices in the farms. We also look forward to continue improving on planting materials quality and service provision to farmers.
We are looking into the possibilities of facilitating access to funding for the macadamia farmers' operations. That comes together with specialised macadamia farming inputs mobilisation program to be run together with inputs suppliers.
Ensuring a constant supply of nuts to the factory by collecting nuts from all producing areas in Uganda
Helping the company meet its end-market and volume requirements through outsourcing from farmers.
Reducing the risk of loss for both the company and out growers.
Increasing farmer productivity and profitability thus ensuring their continued participation and loyalty
Demonstrating company commitment that fosters trust and creates strong relationships with out growers.
Allowing out growers to respond to different micro-climates and soil conditions and respond quickly to pests and crop diseases.
Supporting Upcoming Farmers
Our values include supporting inclusive growth with green development and we are partners with a number of emerging farming projects in various capacities. We ensure that emerging farmers learn from experts in the industry and support them where necessary.
Technical Information for Macadamias
AMAFH Farms Limited has access to a wealth of technical expertise through its own staff, as well as external crop specialists. Our growers are encouraged to adhere to Good Agricultural Practices. Trainings and conferences are held to share the latest technologies and recommendations. We are passionate about protecting the environment.
A strong focus in our messages is sustainable, responsible farming using integrated management practices and natural resources management practices.
Crop or Field Establishment
Farmers are given training and advise on crop establishment planning including soil improvement and management practices.
Field Maintenance
We offer training to our out growers on good agricultural practices. This is done through ad hoc trainings and farmer field tours.
Trees Training and Pruning
Training fruit trees starts when trees are planted, as setting the structure early helps young trees produce early. It's more efficient and easier to train trees early by placing limbs in a position, rather than pruning them later. Pruning is a very important action on macadamia trees. It is an action that influences various other aspects of the tree and crop, such as pest and disease control, yield and rejuvenation.
Post-Harvest Management
When fully mature nuts fall to the ground they are picked by hand or machine and taken for removing the outer green husks. That process is called de-husking and is done as soon as the nuts are collected so that drying commences. After that the nuts bare sorted physically by hand then through a water bath. In the water bath the floating nuts, which are immature and other rejects are removed from the nuts which then go for drying.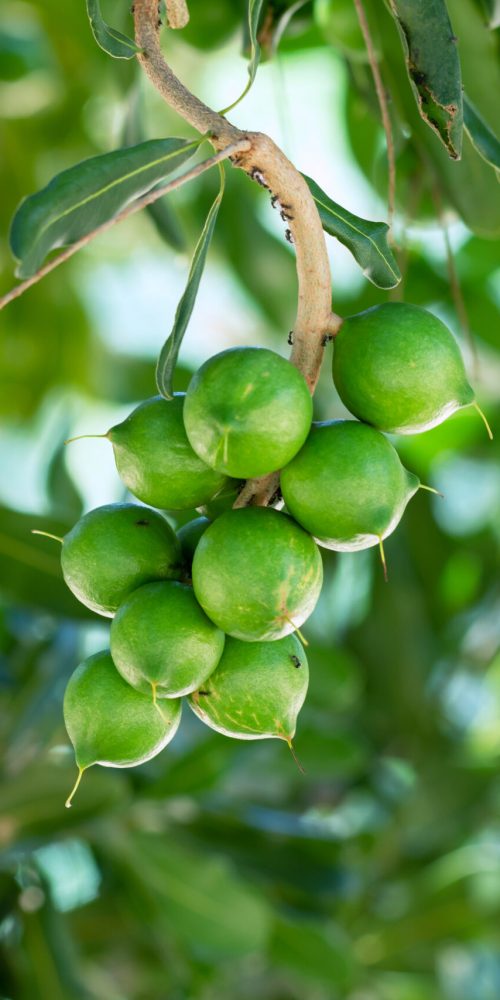 [hubspot type=form portal=9016011 id=6906b739-0ecb-4a8c-be81-99c3f3864937]